Missing People in Minnesota
This is an updated list of people missing from in and around Minnesota. Missing persons in Minnesota are listed below.
Discussions around missing people and cold cases in Minnesota.
There are no topics posted yet.
We worked very closely with Addie's family to help bring her home. Not only was she a friend to some of our team members but we had many mutual friends as well. Although we couldn't help them to bring Addie home, we are praying that they will see some justice for what happened to Addie!! Please say a little prayer, send positive thoughts, good vibes or whatever you might there way to see that justice is served!Dear Friends,
It has been a long time since we updated our Bring Addie Home site. This has been due to our desire to keep Chloe's life private and safe. With that said, we need you to know that your unending love, prayers and support have carried us through these past few years and continue to do so.

We have physically felt your prayers and we are deeply grateful – they have been instrumental in our lives.
You may or may not be aware of a recent development. Just this week, the Hennepin County Prosecutor called to inform us they have officially charged Joshua Dow with the murder of our daughter Addie. Clearly this is a huge moment. David and I are stunned and are continuing to absorb this news.

When we met with the detectives and the prosecution team, they said they felt so strongly about this case and we learned they have been pursuing it non-stop with enormous energy for the past few years. They never gave up. We are in awe, and so incredibly grateful, for the heart and souls of all these incredible people involved in pursuing justice, and quite frankly, safety, for our family and others. We can't help but attribute this development to God's power and the extraordinary love and prayers from all of you…and we as much told this to the attorneys and officers.

As you might imagine, our family continues to be incredibly humbled by God's presence and the light He has shone through this tragedy. That said, we know nothing will bring Addie back. We are taking this development a day at time. One of my dearest friends asked me if I am up for all that may be ahead. Such a loving question and I know things may become very challenging again. But I also know, this is completely out of our control. And I will remind myself daily of what I can do to help and then give it over to Him.

Two years ago, we adopted Chloe with the love, generosity and herculean effort of our champions at Robins Kaplan law firm. Chloe is thriving! She has a smile on her face, all the time…just like the one you see below. She is kind, loving, funny, clever and very outgoing! She continues to sleep with her "mommy blanket." A very special gift a friend made it with many of our favorite photos of Addie, Chloe and family. We hope you can see in Chloe's face how your prayers have impacted her being. Thank you for continuing to pray for Chloe and our family. We cannot fully express how much this means to us.

With great love and gratitude,

David, Cinda, Chloe and the entire Jensen & Gibbons family ... See MoreSee Less
2 weeks ago
Beautiful little girl!! Bless her heart!!
So So sorry for your loss she is Beautiful and is with you guys all the time and she doesn't need to be scared anymore. My Prayers are so with you stay strong and love the time you had with her.
Gods Blessings and Healings to you all. May Love reign through in your lives.
She is beautiful!! Love that smile!
Please send love to Chloe from her ol' preschool and swim school pals, Milara and Jordana. She is a true light and inspiration, as are David and Cinda! Prayers and peace be with you all!!
What a beautiful little girl.
Sending prayers to heal your hearts
Load more
Several people searched for and found this website by looking for:
Minnesota Missing Persons
Minnesota Amber Alert
Minnesota Missing Persons Database
Minnesota Cold Case Files
Minnesota Missing Person Database
Minnesota Missing Persons Cold Cases
Cold Cases Minnesota
Cold Case Files Minnesota
Cold Cases in Minnesota
Minnesota Missing Adults
Minnesota Missing Persons List
Minnesota Missing Persons Report
Minnesota Missing Kids
Missing Persons Minnesota
Current Missing Persons Minnesota
Missing People in Minnesota
Minnesota Missing People List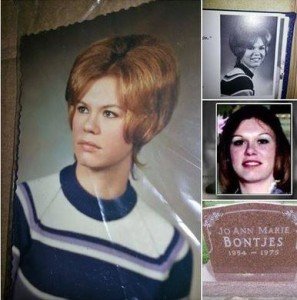 JoAnn Bontjes, a 21-year-old hairdresser from Sherburn, was reported missing on Oct. 2, 1975, when she failed to return home after leaving the Trimont Legion Club early that morning. In the Oct. 3, 1975, issue of the Sentinel, it was reported that Bontjes' car was found abandoned along Highway 4, about two miles south of Trimont. Her shoes were found lying on the ground near the car, and her purse, jacket and keys were still in the car. [Read more about JoAnn Bontjes]